Clippers owner Steve Ballmer demonstrates insanely awkward, thigh-grabbing sideline celebration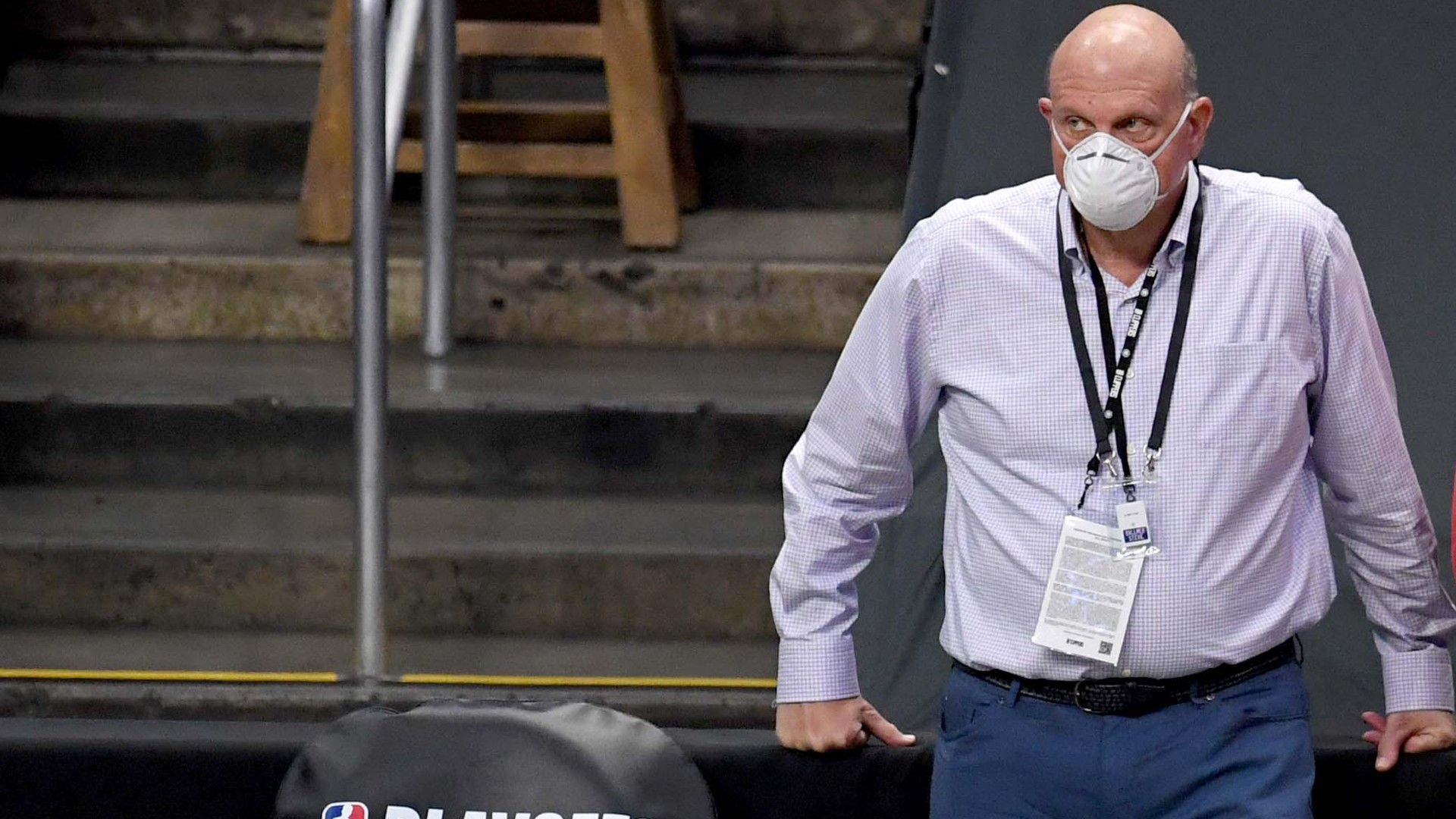 (Credit: Getty Images)
https://images.daznservices.com/di/library/sporting_news/1a/ff/steve-ballmer-getty-ftr-070121_d79bcwihiyra1ta0ew3gsbv06.jpg?t=1717968266&w=500&quality=80

That's a personal foul. Several personal fouls, in fact.
Clippers owner Steve Ballmer is known for his vivacious and energetic demeanor on the sideline, but he took it in a new, unexpected and totally weird direction during Game 6 of the Western Conference finals on Wednesday.
Caught on camera, Ballmer grabs a handful of thighs from neighboring spectators and begins … stroking? carressing? … them in celebration. (If that's awkward to read, just imagine how awkward it is to write.)It's not quite NSFW, but it's … close.
Steve Ballmer committing all kinds of HR violations right here pic.twitter.com/F8ygG6YbDi
— CJ Fogler #BlackLivesMatter (@cjzero) July 1, 2021
MORE: Reggie Jackson gives heartfelt thanks to Clippers after Game 6 lossUnfortunately for Ballmer and the Clippers, the Suns sent the Clippers packing on Wednesday night, with Phoenix advancing to the NBA Finals with a 130-103 win in Los Angeles.On the bright side for Ballmer and the Clippers, though, they won't be subjected to any more deep dives of awkward sideline celebrations in the 2020-21 season.Plenty of fans caught notice of Ballmer's grabby-ness and took to Twitter to discuss it.
Steve Ballmer whenever the Clippers go on a scoring run pic.twitter.com/keDJMQzgdj
— Rich (@UptownDC_Rich) July 1, 2021
That Steve Ballmer clip will haunt me for at least a year
— Muad Issa (@Muadems) July 1, 2021
Steve Ballmer getting a LITTLE too handsy pic.twitter.com/OOGBdvStQ0
— MyBookie NBA (@MyBookieNBA) July 1, 2021
If somebody just described this happening to you with no context, Ballmer might lose the team https://t.co/8pH5EdTISC
— Trill Withers (@TylerIAm) July 1, 2021
me watching the steve ballmer celebration video pic.twitter.com/FBAnOKdcVG
— Becca Laurie (@imbeccable) July 1, 2021  
Steve Ballmer was caressing those thighs like crazy pic.twitter.com/VDO6qrJubt
— Ahmed🇸🇴/Mach Hommy's Pray For Haiti AOTY (@big_business_) July 1, 2021
I need to see a video on my timeline TODAY with Steve Ballmer answering questions about this celebration
pic.twitter.com/1HAcLqiZdz
— Andrew Schlecht (@AndrewKSchlecht) July 1, 2021
This is Steve Ballmer two wins before the Finals…imagine if they ever win a title pic.twitter.com/m536FvjQuS
— NOTSportsCenter (@NOTSportsCenter) July 1, 2021
Try to avoid the restricted area on the court, Steve.